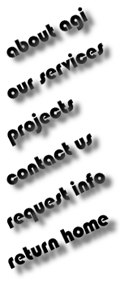 Aeromagnetic Data and/or Basement Fault Maps from AGI's Proprietary U.S. Data Bank.

Geological and Geophysical Research. AGI, through its founder and chief scientist, S. Parker Gay, Jr., has long engaged in research on geological and geophysical topics, with many breakthroughs accomplished over the years. We would be pleased to work with your organization on similar research topics related to exploration. Click Geological and Geophysical Research above for a list of Gay's papers and abstracts. Full texts of several papers are on this website - see left sidebar.

Proprietary Aeromagnetic Surveys. AGI no longer flies its own surveys, but contracts the flying to other qualified contractors. We then take the raw data and compile it into high quality Total Intensity maps, as we have always done. The next step is processisng and interpretation using our proprietary algorithms and techniques.

Group Surveys. In areas where we don't already have data, we promote, fly, and interpret group aeromagnetic surveys in the U.S. and overseas. This way the client pays a more reasonable price for his data.

Reprocessing and Re-interpretation Services. Using the most modern processing techniques, we treat existing magnetic data to best bring out the basement fault block pattern and other geological features encrypted in the data.

Stereo 3D Magnetic Maps. We are the only company worldwide that prepares stereo views of magnetic data to enhance the signatures of geologic features of interest.

Stereo 3D Terrain Maps. This unique look at topographic data is truly a new geologic tool of great interest to oil, gas, and mineral explorers, and has dozens of other uses in outdoor recreation, natural resource studies, land planning, etc.